This year Cash Management Solutions (CMS) and Image Remit (IR) employees selected Operation Christmas Child for our annual Giving Back program.
Employees purchased all types of items to fill gift boxes. Each box contained a 'wow' item, personal care items, clothing and accessories, crafts and activities, toys, along with a personal note. The gift boxes were about the size of a standard shoe box, so there was plenty of room for smaller items.
By the end of day we had packed 120 gift boxes; all ready to be sent to children in need to countries all over the world.
Operation Christmas Child
All of CMS and IR employees were very generous (and excited) about this particular Giving Back event. There is always something special about helping those in need; especially when you know you are helping and possibly changing the life of a young child or even an almost teenager. Special attention for items to fill the boxes were based upon gender and age group (2-4, 5-9, and 10-14).
Everything from stuffed animals, crayons, coloring books, puzzles, flashlights,  notebooks, pencils, erasers, dolls, baseballs, soaps, toothbrushes, toothpaste and shampoos were just some of the items the gift boxes were filled with.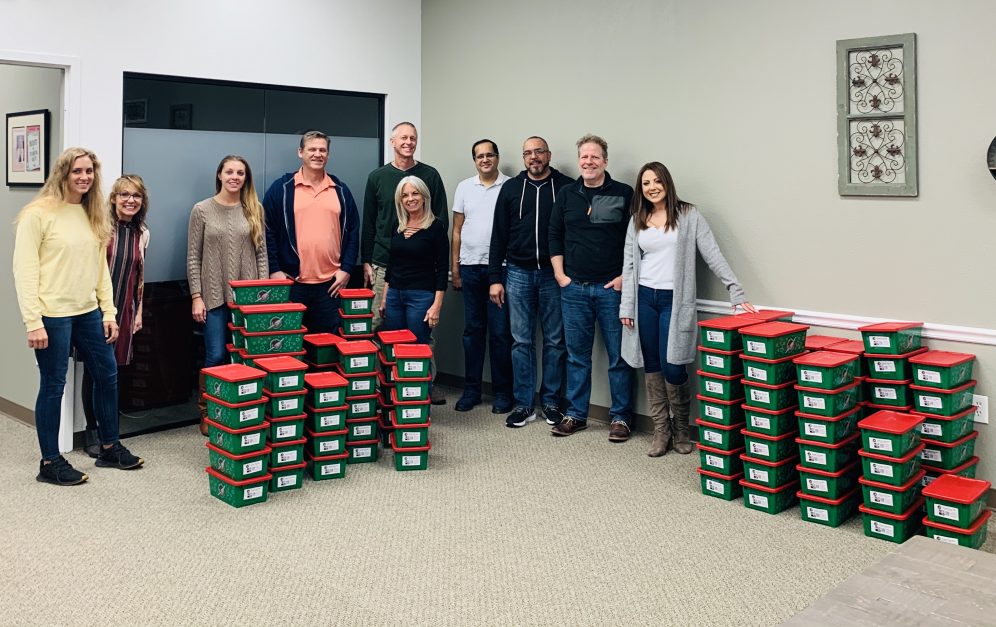 What is Operation Christmas Child?
The Samaritan's Purse project Operation Christmas Child collects shoebox gifts—filled with fun toys, school supplies and hygiene items—and delivers them to children in need around the world. For many of these children, the gift-filled shoebox is the first gift they have ever received.
Since 1993, Operation Christmas Child, the world's largest Christmas project of its kind, has collected and delivered more than 168 million shoebox gifts to children in more than 160 countries and territories.
In 2019, Operation Christmas Child hopes to collect enough shoebox gifts to reach another 11 million children in countries like Peru, the Philippines, Rwanda and Ukraine. More than 10.6 million shoebox gifts were collected worldwide in 2018, with more than 8.8 million collected in the U.S.